Drive, Fundraise & Be Rewarded
Our aim is to reward your commitment to the cause, especially during these uncertain times. To achieve this, we can't do it alone, so we have collaborated with some fantastic brands that share our honorable values to bring an astounding assortment of prizes for our fundraisers.
Please note all rewards are in relation to The 2022 Distinguished Gentleman's Drive.
Bespoke Art by Manu Campa
Highest Fundraiser
Manu is a painter born in Madrid in 1983. He graduated in Fine Arts in 2008 from the UCM and specializes in classic cars, another of his passions. This has since become the main motif of his work, the reflections or brightness of each painting being his particular hallmark with his artwork featured around the world.
The top fundraiser for 2022 will receive a personalized piece by Manu. This unique art piece will feature the winner's DGD vehicle of choice. 
To learn more about his incredible work, click below.
2022 Prize Winner
Juan Carlos Cruz
Los Angeles, USA

Supercharger Pack
Top 10 Fundraisers
Heel Tread is a unique brand of socks that draws its inspiration from some of the world's most renowned automotive icons. Designed and made in Portugal.
The top 10 fundraisers will receive a Supercharger pack with 29 sock designs in a custom crate including our own DGD Sock. (Sample in the image)
Valued at $250 USD each.
To learn more about the Heel Tread prize click below.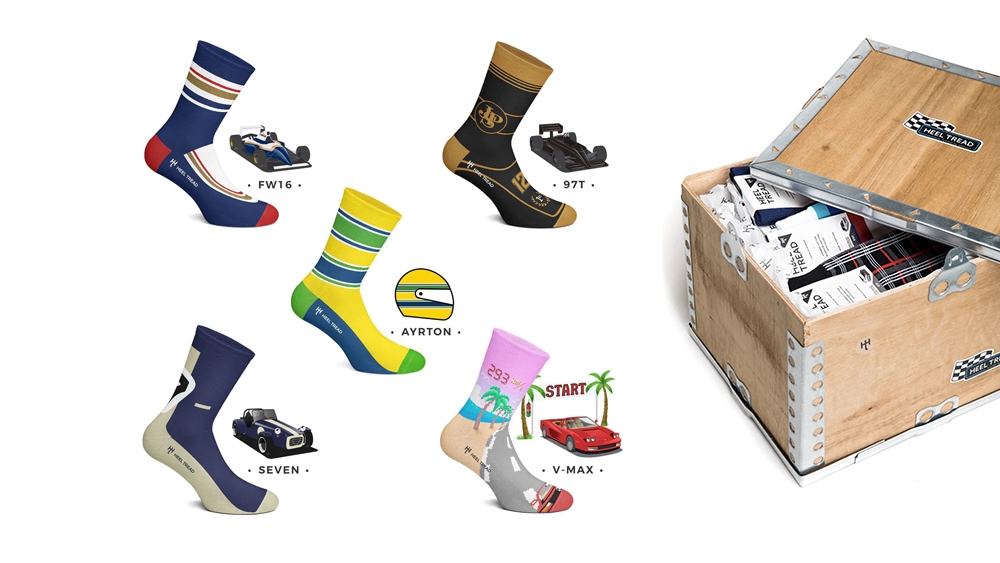 Case Pack
Top 20 Fundraisers
Bring tech to your fingertips with Quad Lock's smartphone car mount and case by being a Top 20 global fundraiser.
Whether you're new to the brand or are expanding your collection, you will earn yourself a $75 USD voucher to spend on their product range to safely and seamlessly mount your device to your classic car.
Click below to learn more about Quad Lock, and view their product range.

DGD Bracelet
Top 20 Fundraisers
For the most dapper of automotive enthusiasts comes this unique piece of motoring jewelry. A collaboration with The Distinguished Gentleman's Drive and The Mechanist made only for the Top 20 fundraisers is this 25mm hand-crafted sterling silver steering wheel bracelet, wearable in both left hand and right hand drive and adjustable to the driver's preference.
Click below to find out more about The Mechanist, and see their racing-inspired range for any motoring gentlefolk.
Fundraising Rewards
The more you give, the more you get! We are in this for men's health, but it definitely helps that the more you fundraise, the more you earn as recognition for your incredible achievements. As you reach each of the fundraising levels listed below you, will be eligible for each reward - so start fundraising, and make sure your contact details are correct!
DGD 2022 Gentlefolk Pin
Raise $500 USD
An astounding milestone for any fundraiser! Keep the momentum going and raise $500 USD to receive this exclusive 2022 Fundraiser Pin. This is a unique pin that can only be earned.
DGD 2022 Car Badge
Raise $1000 USD
An astounding milestone for any fundraiser! Keep the momentum going and raise $1000 USD to receive this exclusive 2022 Car Badge. Drive your vehicle with the gentlefolk spirit.